Paper Converting Machine-Synchronic Sheeter Machine Paper Cutter
Detail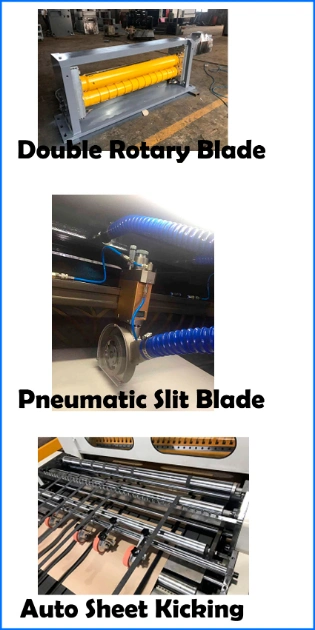 Machine Introduction:
The machine adopts Dual Knife Synchro-fly Cutting Method, so that the cut sheets have no deckle edge, no dust, and no inclination. And the machine is high precision, and can be connected to the printing machine directly.
Model
RS-S 1400
RS-S 1700
RS-S1900
Web Width range
400-1400mm
400-1700mm
400-1900mm
Max. Unwinding Dia.
1900mm (71")
Thickness Range of Paper
up to 1000gsm
Cutting Method
dual knife synchro-fly cutting
Max. Cutting Speed
300 cuts/min
Max. Linear Speed
300m/min
Sheeting Length Range
450-1600mm
Cutting Precision
±0.2mm
Sheet Square-ness
±0.25mm
Slitting Format
2 Sheets
Max Sheeting Pilling Height
1700mm
Machine Weight (kg)
16000
18000
20000
Power Supply
380V/220V*50Hz
Air Supply
0.8Mpa
Overall Dimension (L*W*H)
13500*4800*2630(mm)
Company Introduction:
Wenzhou Dongyin Machinery Manufacturing Co., Ltd. Established in 2019, we are growing out from Ruian City Dongfang Machinery Manufacture Co., Ltd.(since 1993) We take the good technical tradition from it, and develop more stronger soft packing material roll sheeting machine series. Absorbing more new advanced technology, we have brand upgrade of our old products both in pre-press and post-press industry.
We will keep our core-value to offer grate service to each customers home and aboard. Offer qualify machine, make client getting rich. Good service, good faith. We DONGYIN people always stand by.
Standard configuration
1. Prismatic adjustment system for paper 1 SET
2. Paper conveying appliance 1 SET
3. Automatic paper trimming and piling system 1 SET
4. Electrical control system 1 SET
5. Motor driving system 1 SET
6. Accessory 1 SET
7. Face cone shaftless stand 4 SET
8. Paper tension control system 4 SET
9. Operation system: LCD man-machine interface 1 SET
10. Main drive system: AC servo motor 1 SET
11. Round Cutter Slitting System 3 SET (Pneumatic drive)
12. Sheet kicking device
Customized model,
please contact our sales by inquiry here directly.
We will reply by email or phone call as soon as possible.