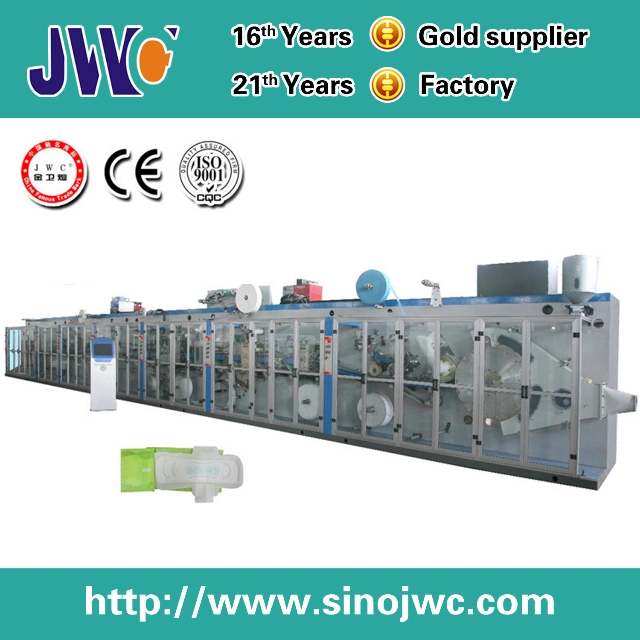 Main functions features
1. It has got national patent in the year of 2005. It uses shifting type size changing system to reduce the scrap rates, saving labor costs.
2. It adopts double-knives, double-moulds, and double-embossing. Change two sizes products through easy shift button.
3. The machine can produce two sizes sanitary napkins of regular type, ultra-thin type, quick-easy package type or wings type.
4. It can adopt PLC controller system. Alarm and urgent stop machine. Can be settled according to the customer's requirements.
5. Spiral umbrella gears are protected by cast shield box and greased to maintain precision, less noise and long life.
6. It can also produce quick-easy package or wings type according to customers' samples.
Main Technician Parameters
1. Type: JWC-KHD
2. Designed speed: 100M/min
3. Real Running speed: 250-300PCS/min
4. Product Size: It can make two size according to customers' samples.
5. Capacity: 120kw (including glue applicators)
6. Practical capacity: 80kw Breaker: 250 A
7. Electricity: 380V50Hz Cable: 3x50mm2+1x25mm2+1x16mm2
8. Air compressor: 6kg/cm2, ≥ 0.6mpa, 1m3/min
9. Total weight: About30T
10. Main machine overall dimensions: (22x4 x3)M (LxWxH)
11. Working Space: (26x8x4)M(LxWxH)
12. Container: 1x40HQ+1x20GP
| | |
| --- | --- |
| sanitary napkin machine Type | JWC-KHD |
| Designed speed | 100M/min |
| Real Running speed | 250-300pcs/min |
| Product Size | it can make two size according to customers' samples. |
| Capacity | 120kw (including glue applicators) |
| Practical capacity | 80kw Breaker: 250 A |
| Electricity | 380v50HZ Cable : 3x50mm 2 +1x25mm 2 +1x16mm 2 |
| Air compressor | 6kg/cm2, ≥0.6mpa, 1m3/min |
| Total weight | about30T |
| Main machine overall dimensions | (22x4 x3)M (LxWxH) |
| Working Space | (26x8x4)M(LxWxH) |
| Container | 1x40HQ+1x20GP |