The Main Performance And Structure Features of Easy Operation Wet Napkin Wipes Packing Machine/Fresh Vegetable Packing :
Dual frequency conversion control, Bag length can be set and cut in one step, saving time and film.Interface features easy and quick setting and operation.Self failure diagnosis, clear failure display.High sensitivity photoelectric eye color tracing, numerical input of cutting sealing position for extra accuracy.Temperature independent PID control, more suitable for packaging different materials.Positioned stop function, without sticking knife or wasting film.Simple driving system, reliable working, convenient maintenance.All control is realized through software, easy for function adjusting and technical upgrade.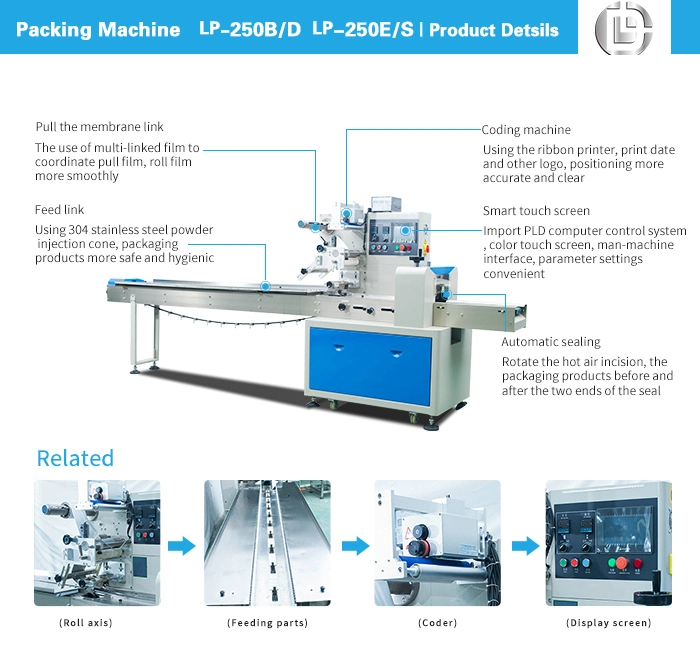 The Application of Easy Operation Wet Napkin Wipes Packing Machine/Fresh Vegetable Packing :
Can be applied to:Food (Snack bar,Bread,Cookies,Ice Lolly,Cake.Chocolate,) Plastic(Cutlery,Tray,) hardware(Handle,Bearing,Car parts, Washer, ) Soap,Sponge,Tissue,Card, DIt is suitable for packing various types of regular objects such as biscuits, pies, chocolate, bread, vegetables, fruits, daily necessities, medical supplies, industrial parts, cartons or pallets.
The Sample Of Easy Operation Wet Napkin Wipes Packing Machine/Fresh Vegetable Packing :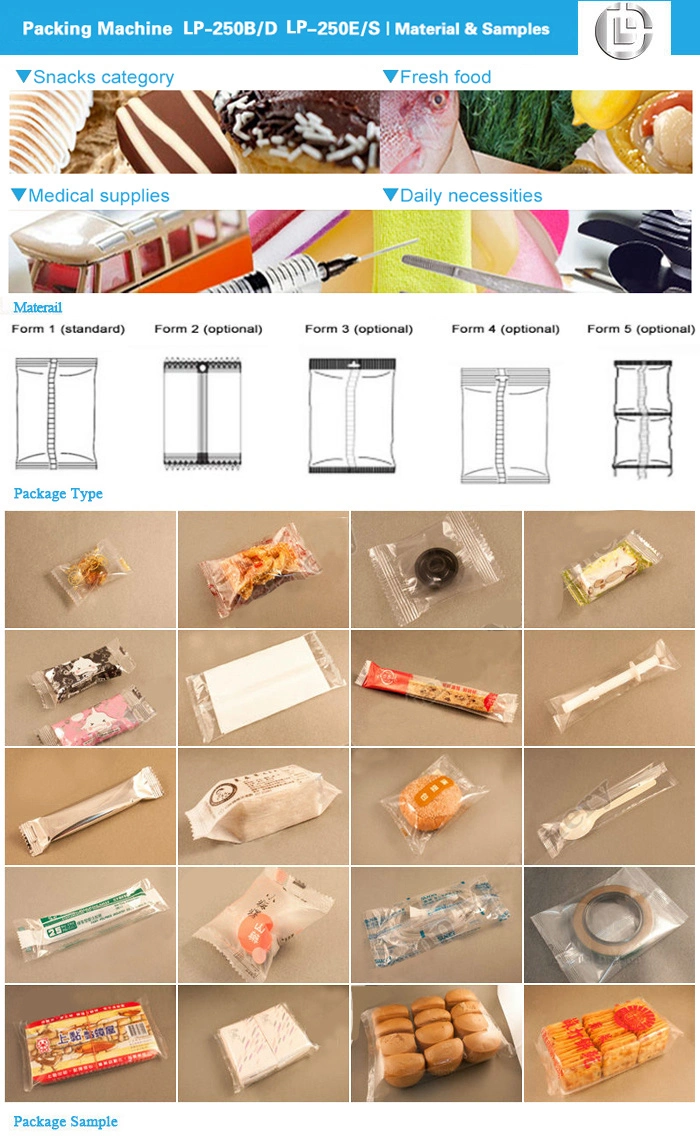 The Specification(With the product size selection models)of Easy Operation Wet Napkin Wipes Packing Machine/Fresh Vegetable Packing
Type
LP-250
LP-320
LP-350
LP-400
LP-450
LP-600
Film Width
Max.250MM
Max.320MM
Max.350MM
Max.400MM
Max.450MM
Max.600MM
Bag Length
65-280MM
65-330MM
65-330MM
150-400MM
150-450MM
160-500MM
Bag Width
30-110mm
50-150mm
50-160mm
50-180mm
50-180mm
50-280mm
Products High
max.55mm
max.55mm
max.60mm
max.65mm
max.75mm
max.110mm
Packing Speed
40-330bag/min
40-230bag/min
40-180bag/min
30-150bag/min
30-150bag/min
20-150bag/min
Power
220V 50/60HZ 2.4KW
220V 50/60HZ 2.6KW
220V 50/60HZ 2.6KW
220V 50/60HZ 2.8KW
220V 50/60HZ 2.8KW
220V 50/60HZ
2.8KW
Machine Size(mm)
3770x680x1420
3770x720x1420
4020x770x1420
4020x770x1420
4020x820x1420
4020x970x1500
Machine Weight
500kg
550kg
580kg
600kg
650kg
680kg
Optional Accessories:
1:Date Coder 2:Touchable Screen 3:Automatic Punching Device
4:Alternative sealing patterns and notch 5:Auto labeling device 6:Deoxidizer chute device
7:Gas flushing device 8:Alcohol spraying device 9:Auto feeder
Get More Our Product & Company Information, Please Go To: landpack.en.made-in-china.com
1. Using touch screen and PLC human-machine intelligent interaction system to realize fully automated production;
2. Unique and beautiful appearance, using 304 stainless steel;
3. It can be used with bottle unscrambler, capping machine, labeling machine and other equipment to form a fully automatic production line.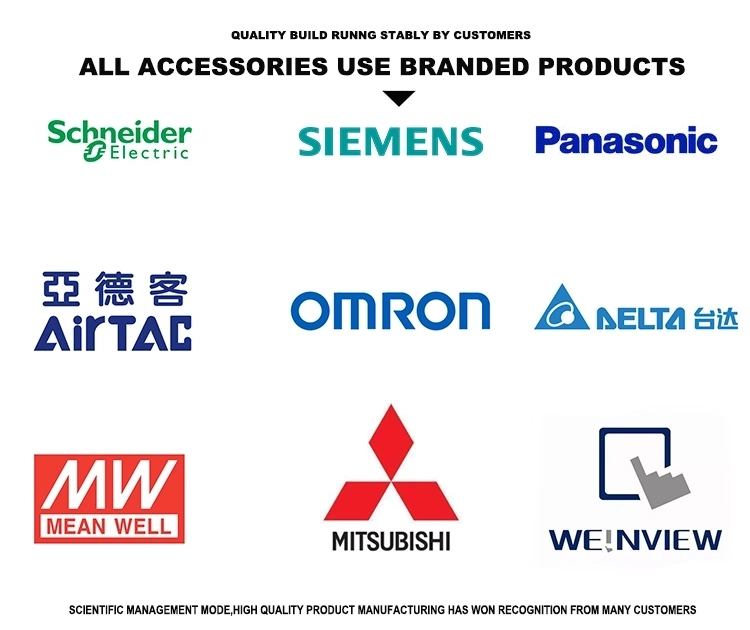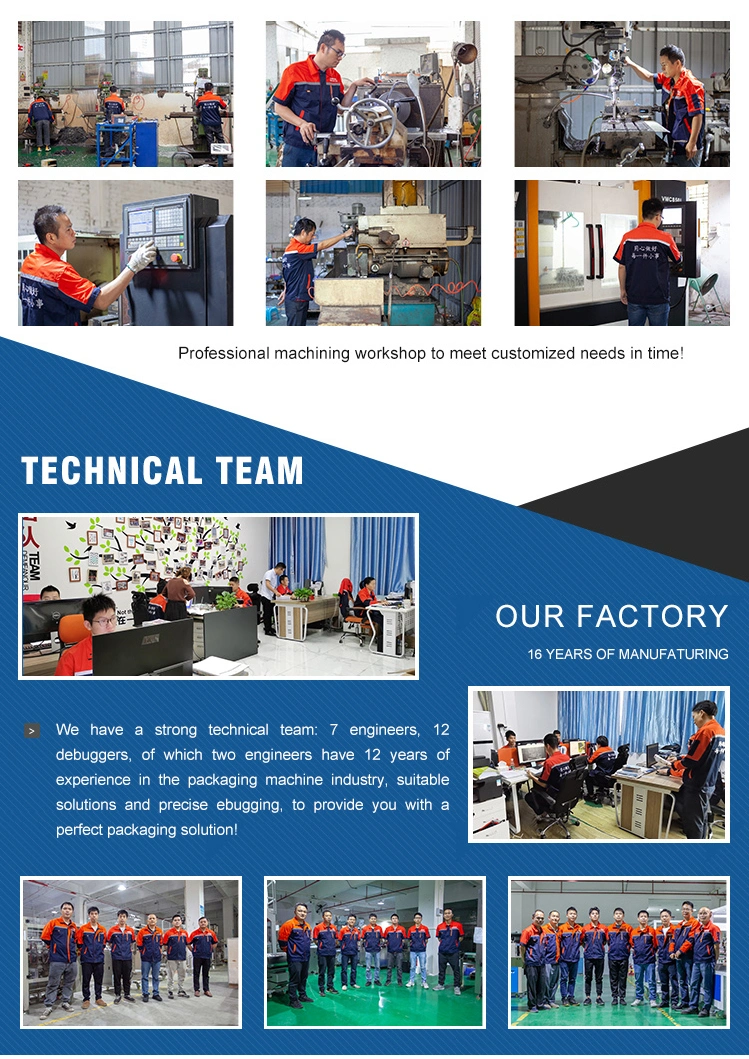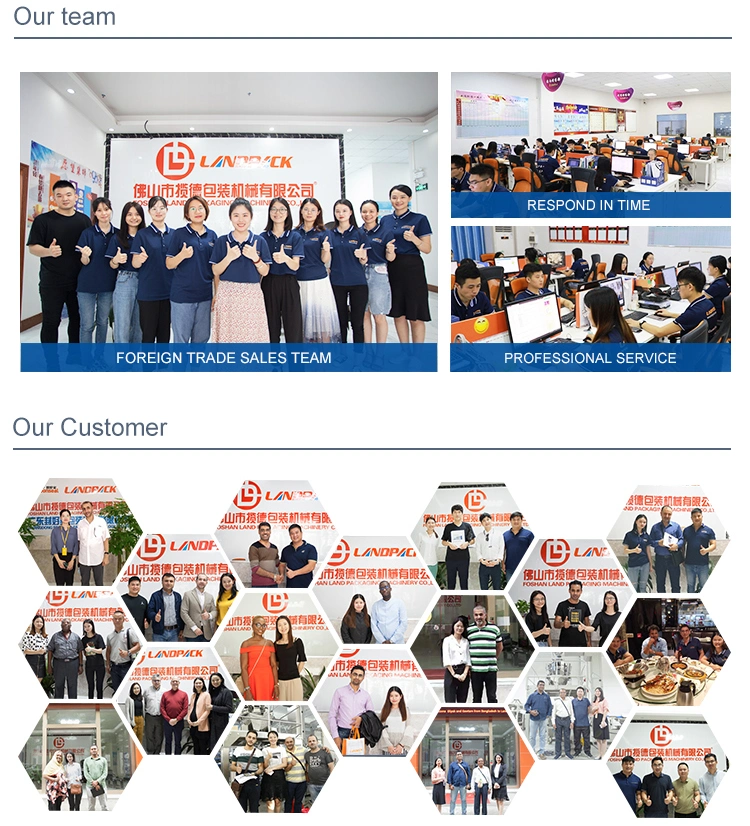 Get More Our Product & Company Information, Please Go To: landpack.en.made-in-china.com


Pre-sale Service1. Equipment model selection:
2.according to the special requirements of customers, personalized customized products;
3. Train technicians for customers free of charge;
4. Free professional technical engineers to plan the site on site and design the best process and plan.
5. Acceptance of the product;
6. Assist the client in drafting the construction plan;

Medium-sales Services:
Landpack have the trained team to follow your orders methodically to guarantee the products can be finished
on time with high quality.

After-sales Service
1.One Year Warranty,As long as there is a non-human fault in a year,free re-placement parts.
2.Parts Replacement,Don't worry about the parts damaged or not sold after the machine is sold.we have a field factory with hundreds of enployees to serve you.
3.Engineer Asssignment,Lifelong maintentance,If your equipment breaks down,we will arrange engineers to repair it.
4.Online Instruction,We open online services,as long as your equipment failure,our engineers will be the first time for
a one-to-one trou-bleshooting.
5.Feedback Survey,The engineer is required to bring a questionnaire to fill in the satisfaction with the engineer and the use of the equipment.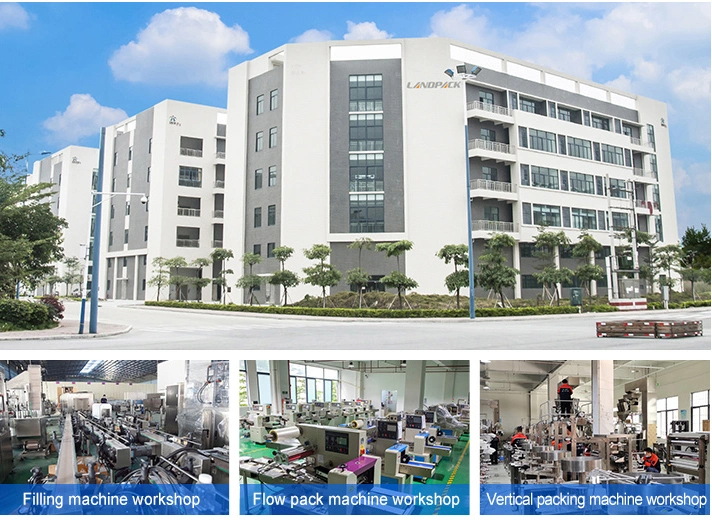 Our Organization
The manufacturing plant and facilities, designed with modern criteria complying with CE directives, and the advanced process technology based on an economy of scale production, place LANDPACK among China producers for the top quality of products as well as for the quantity and variety of solutions proposed and sold. Research and Development Department is equipped with advanced tools and disposes of a qualified team of informatics, electronics and packaging experts involved in the study and experimentation of new solutions, indispensable for new projects and for the improvement of standard equipment.

Our Mission
Our aim is the complete customer's satisfaction, through research and trials of new automated packaging systems and technical solutions.

Our Objective
Designing and building automatic packaging machines technologically advanced, durable and reliable, interfaced with modular composed automatic feeders, easy to be integrated into automated packaging systems.

Our Sales and Service Network
Entrusted to Certified Agents of proven professional competence and expertise, employing Record trained service engineers, stocking a suitable inventory of original spare parts for immediate delivery.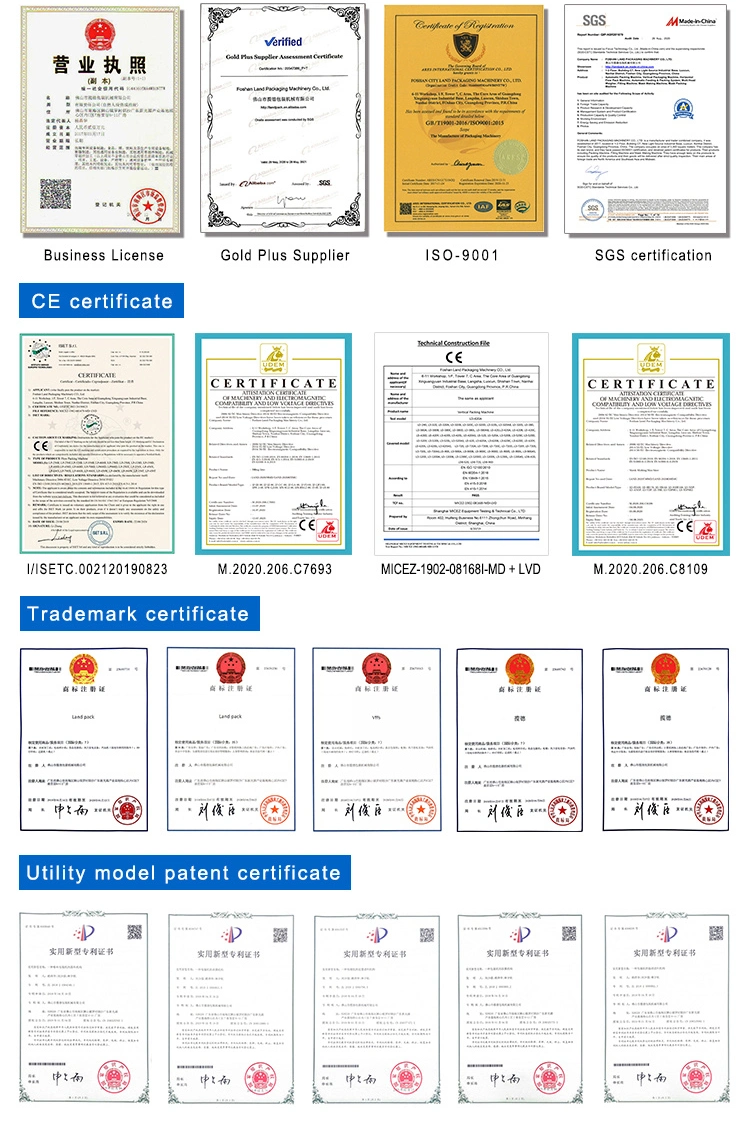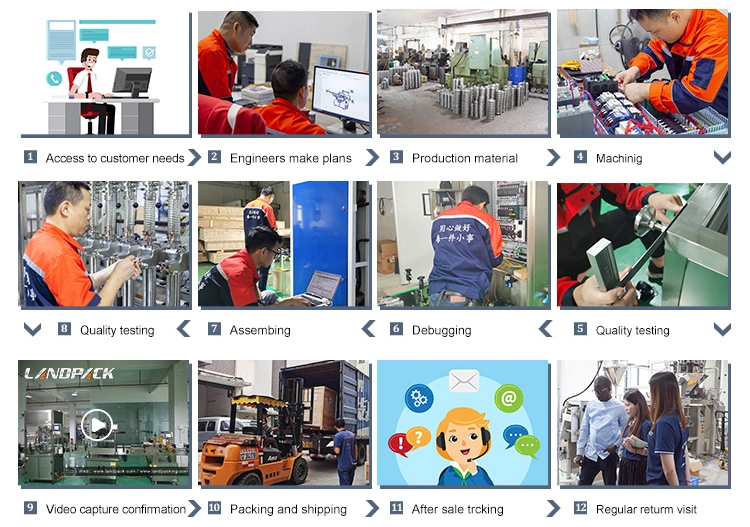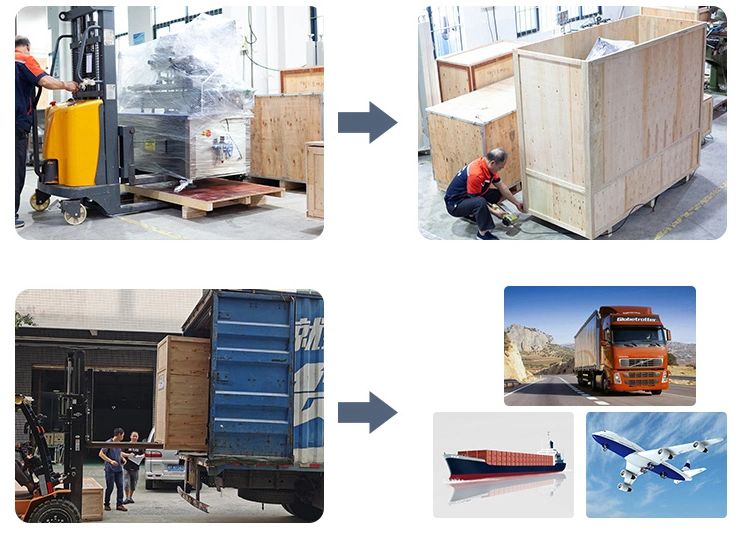 When the machines are finished:
1.we would inform the customers and ask them to come our factory to check the machines.
2.We also provide the test report of the machine. Before the machine leaving our factory, we need to receive the balance .
3.The machines would be wrapped by the waterproof membrane and packed in the wooden box.
4. Our long-term cooperative shipping company to send to the machine to your country in time.

Contact us
Company Address:
Building C7, New lighting Source Industrial Base, Nanhai District, Foshan ,China
If You Would Like To Visit Our Just Now,Plese Contact Us and We Will Arrange a Special Bus To Pick You Up.
Kindly Reminder:
Please let us know the follow packing details when you offer,so that we can check if this model is suitable for your case.Thank
you in advance.
1. Product details
2.Bag width,bag length
3. Bag shape
4. Packing film material
5. Machine frame
LANDPACK MACHINERY is still developing, and the products are also being innovated. Welcome our old and new customers to visit our factory and make the consultation.
We will provide professional packaging solutions for you!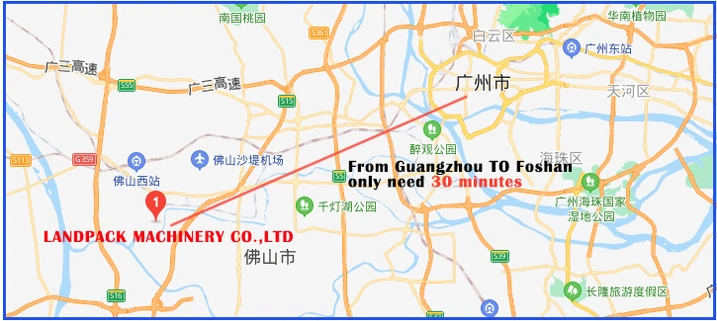 1. Q : Which one packing machine is suitable for us ?
A : Dear, before quoting, please kindly consult us and providing:
1.your product name,product picture.
2.your bag size,such as bag width and bag height.
3.ideal bag shape. For there is over 100 kinds of packing machine,different on bag size.
In order to recommend u the best,we need know that information.
If u just start this business,no bag size,we can help u to find similar weight bag for your reference.

2. Q: Is that packing machine ok for our product?How to operate it?
A : If you donnot mind,you can send u sample.we will use existing packing machine to test for u.
During that time,we will take video and clearer picture for you.If chance,we can take video online and show u.

3. Q: Is that pack many bag size in the same packing machine?
A:That is the common question from our customer.Every packing machine has its range for bag length and bag width.can u send us full details,i will calculate for u and give u exact reply.
Need more machines details or videos? Please contact us directly !
Get More Our Product & Company Information, Please Go To: landpack.en.made-in-china.com