Main technical data
1. Paper type: kraft paper /mill board paper note book paper / insulation kraft paper
2. Gram weight: 80-200g/m2
3. Trimmed width: 3200mm
5. Designed speed: 100-180m/min high speed
6. Production capacity: 100t/d
7. Dryness:
After wire section: ≥18-21%
After press section: ≥38-42%
Paper product dryness: 90%-92%
8. Finished product ratio: 96%
Technology condition
2.1 Pulp types :commercial wood pulp
2.2 Pulping Concentration: 0.1~0.3%
2.3 Dryness getting into dryer:35~38%
2.4 The dryness of winkle: 90~92%
2.5 Paper moisture: 5~8%
Feature of this kraft paper making machine: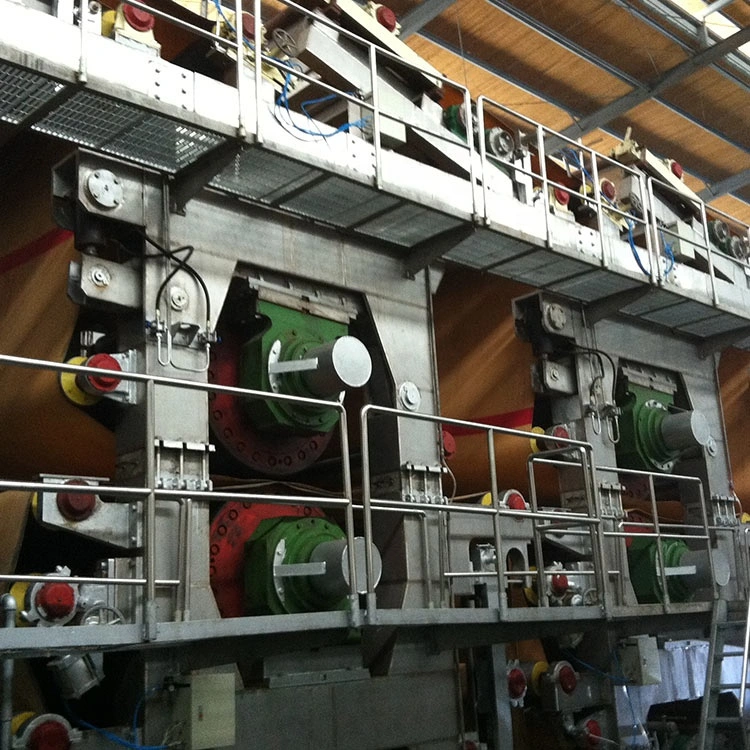 The machine is equipped with dewatering element according to max. basic weight and pulp type. The production capacity can be assured. When the paper making basic weight is changing, the vacuum degree of vacuum dewatering element can be adjusted to make sure the paper dryness. According to the vacuum degree from low to high, equipped with forming board, dehydrate box, vacuum dehydrate box, low vacuum suction box(wet suction box), high vacuum suction box(suction box). Material of elements that contact with wire is ceramic material. Front of scraper blade is flat. Box is stainless steel. Each vacuum suction box is equipped with steam separator and connect with vacuum main pipe.
The machine consists of headbox, fourdrinier wire forming, press section, drying section, gas hood section, sizing machine, calender, mechanical drive section, compressed air system, lubrication system, hydraulic pressure system, basic section, reeling machine. Paper machine scheme drawing shows the main arrangement.
2

Main structure

1,

Headbox

2,

Wire section

3,

Press section

4,

Drying section

5,

Gas hood section

6,

Sizing machine

7,

Calender

8,

Reeling machine

9,

Mechanical drive

10,

Compressed air system

11,

Lubrication system

12,

hydraulic pressure system

13,

Basic section

14

Main electrical transmission
Wire section:
It consists of headbox, fourdrinier part, basic section, mechanical drive and electrical control.
Press section:
Type: two large diameter press
The second press top roll is artificial stone roll. Others are blind press. All of the press rolls are coated with rubber.
Designed tension of press felt: 6KN/m.
Drying part:
This part is equipped with 22 dryer cylinder with diameter of 1800mm. It is divided into three groups. Number 1, 2, 15 and 16 are dryer cylinder with chromeplate treatment.
Designed dry wire tension: 5KN/m.
Gas hood: semi-open
Material: high quality antirust galvanized sheet, thickness: 1mm, waviness surface.
Winding machine of testliner paper machine
Qty: 1 set
Diameter: 1100mm
Surface width: 3550mm
Working speed: 180m/min
Diameter of paper roll: 2200mm
Boiler of our high speed insulation kraft paper machine :
teat liner and fluting paper machine headbox:
The step diffusion pulp inlet is made of stainless steel 304. organic glass 3 level steps spring back pulp spread. Box is welded stainless steel. 2 stainless steel evener roll. Top and bottom lip are made of stainless steel 316L. Top lip can be adjusted totally or partly. Spinner distance is 120mm. Headbox can be adjusted horizontally and lip can be adjusted up and down and has Micro adjustment function. The control system of headbox can connect with DCS system signal to achieve program logic control. Proper scope of starching amount is 1:2. There is organic glass prothole on the box to observe the pulp level.
Cylindder mould of it :
Dryer cylinder consists of cylinder body, cylinder cover, spindle nose, manhole cover. Cylinder cover and spindle nose are split type bolt connection. Cylinder cover is double deck structure. Bearing installation part of spindle nose uses numerical control machining 1:12 taper form. Oil pressure remove bearing.
Final products : notebook paper / indulation kraft paper
Pulp equipment in kraft paper mill :(click the picture to see more details )